Add some pizzazz to a child's or teen's room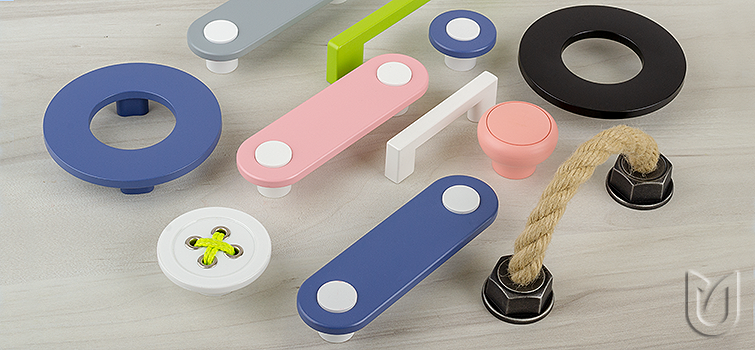 2020-09-03
Why not brighten up the kids' rooms so that they're not just attractive and comfortable, but full of colours and shapes as well?! You can transform any ordinary cabinet into something special with a colourful handle and give your furniture a whole new look.
The great thing about cabinet handles is that they can be easily changed to let your furniture grow with your child.
Things to keep in mind when furnishing a child's room
First of all, take into account the age and interests of the child the furniture is for. Your design choices will differ depending on whether you're putting together a room for a toddler, a school kid, or a teenager.
For younger children, choose colourful handles, which beautifully complement furnishings in light wood shades, and solid colours that can make a striking, colourful dresser. Safety is important, which is why we offer handles in rounded shapes in plastic and rubber.
You'll win school kids over with the combination of DTDL Smart C005 Cricket CLUB or DTDL Smart M022 Rockefeller MANHATTAN wood motifs with colourful Cute or Large handles, which add style to any cabinet or desk.
A good choice for older students might be a combination of wood decor and double-sided laminated chipboard for a cool, trendy vibe. Combine red DTDL Smart A024 Skiathos ANILINE board with DTDL Smart S205 Broadway SoHo / TIMBER wood motif for an interesting, eye-catching contrast. If you want to achieve a more neutral look in your interior, reach for solids in anthracite or cream combined with handles in white, grey or black.
Don't want to refurnish entirely, just to refresh the room a bit? Browse our collection of children's handles and surprise your child with a room makeover by simply changing furniture handles – it's the little things that count.