From the World of Tulip Handles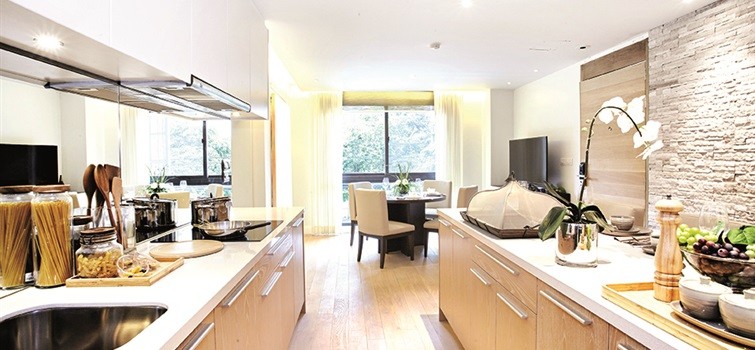 Thinking about a new kitchen unit or furniture for the living room, bathroom or hallway and cannot decide which style to prioritise? We offer you a few tips from the category of furniture handles that you should definitely not forget when choosing your dream interior and which could make your choice easier.
Although the trend of recent years has been the so-called "handleless" kitchen units which represent minimalism and clean smooth straight lines, furniture and kitchen units inspired by a rustic design, Provence-style kitchens, rural country furnishings and also a modern trendy design are getting to the forefront lately. The choice of handles shall play an important role in these cases. The range of kitchen and furniture handles, knobs, aluminium profiles, rails, and recessed Tulip handles in our portfolio reflects current world trends related to the kitchen and furniture design. Select Tulip, you´ll choose elegance and quality.
An intermediate stage between door without handles and door with classic handles is the so-called aluminium profiles. What are their benefits? The most important benefit is perhaps their practical aspect – the profile is secured on the full length of the kitchen cabinet door and therefore the cabinet opening is very comfortable. From an aesthetic point of view, this profile does not interfere with the front of the cabinets, and due to different possibilities of finishes, it can be fine-tuned to other kitchen components such as appliances, aluminium frames or other accessories. Aluminium profiles are used by furniture manufacturers and kitchen studios mainly in the kitchen segment but are also suitable for bathroom furniture.
A large and still a popular group consists of kitchen and furniture rails (handles), handrails of different shapes, materials and designs. These types of handles have been on the market for decades and, in certain variations, are an integral part of every household. Their main applications are mostly in kitchens, but you can also find them on bedroom furniture, bathroom and living room sets or chests of drawers. As for the design, the possibilities are wide indeed. Our offer includes angular handles that perfectly complement your modern kitchen unit of the latest trends, but also round ones that you might prefer in your cottage. Less conventional customers can choose from atypical shapes of handles in the form of different shells, ovals and curves. A glossy chrome handle is a good choice for bathroom furniture – you can fine-tune it to the tap and other fittings. However, from a practical point of view, customers rather prefer stainless steel, aluminium or grounded nickel furniture handles. The reason is very simple – easy maintenance and design compatibility with kitchen appliances. Black handles and handrails are on the increase nowadays, as well as collections of old brass, steel and old copper models that are especially suitable for rustic furniture and solid wood.
The surface of each kitchen and furniture handle can be smooth or, on the contrary, with different engravings, patterns, structures, favourite patina, and for extravagant customers, the Swarovski crystal decor handles are also available. A novelty in our assortment is the collection of Tulip handles with various "effects". These include imitations of concrete, iron, scuffed paint effect and rust-like models. Such unconventional handles can freshen up a seemingly boring piece of furniture and become the centre of interest of all visitors.
Knobs – handles with one-point system of attaching to the door – have also enjoyed popularity for years. They are generally smaller than handrails, so they are mainly used for chests of drawers, tables, cabinets, office furniture and living walls. Within the design, you can choose from a variety of knobs – round, oval, angular, very simple, but also non-standard asymmetrical ones. Finishes of knobs are similar to handrails – with glossy finish, matt chrome, old brass, but also in combination with porcelain, wood and plastic, which is very suitable for furniture in children's rooms. The so-called rustic handles, handles to Provence-style kitchens, have been especially trendy recently. Preferences for this kind of interior include mainly all combinations of metal and ceramics which corresponds to a ceramic kitchen sink or an old brass kitchen tap or kitchen appliances, that are offered by present-day market in various material and colour designs. Imagination is not limited.
The last category, but certainly not of lesser importance, includes recessed handles. This special type of handles is primarily suited for slide-in cabinets, doors, smaller cabinets and office furniture. Their main advantage is the attachment of the handles into a milled hole. The doors then open without any collisions. As with other types of handles, recessed models come in many shapes and finishes. If you are limited by space or simply prefer a sliding door system, the recessed handle is one of the options for you.
Finally, a simple tip – remember that a well-chosen handle can also breathe life into an old piece of furniture that you have inherited from your grandmother or simply freshen up your existing kitchen unit. After all, the patina for furniture and the appropriate handles are very popular and desirable nowadays.
To the extent that the perfection as a whole consists mainly of details, the seemingly small thing like the furniture handle can enhance or, on the contrary, spoil the overall impression of the interior. That is why you should pay attention to their selection and tailor their appearance to suit the overall furniture concept.
The diverse and varied range of kitchen and furniture Tulip handles can be found on our website and on the Démos24Plus portal.