HT 9121957 ARCITECH reling 270 L bílý
Product range code
225961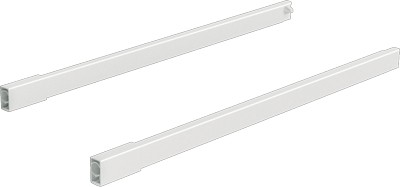 Images are for illustration only and may not correspond to reality. The parameters of the actual embodiment are included in the product name and description.
Brand

Group code

1020050403

Unit (piece)

pcs
Divisibility

1 pcs

Packaging

30 pcs
Description and parameters
Podélný reling, levý, bílý. Příchytky čela pro reling se objednávají samostatně (226404 příchytka na vrut k našroubování, 226403 příchytka na hmoždinku k zaražení).
Termín dodání od 8-ti do 21 dní. V případě odběru množství mimo velikost balení účtujeme poplatek 50 Kč.
Parameters
| Parameter | Value |
| --- | --- |
| Colour | White |
| Headroom of drawer (mm) | 282; 193 |
| Length (mm) | 270 |
| Movement of extended drawer | Undefinied |