Intelligent solutions and courageous architecture on Bau 2017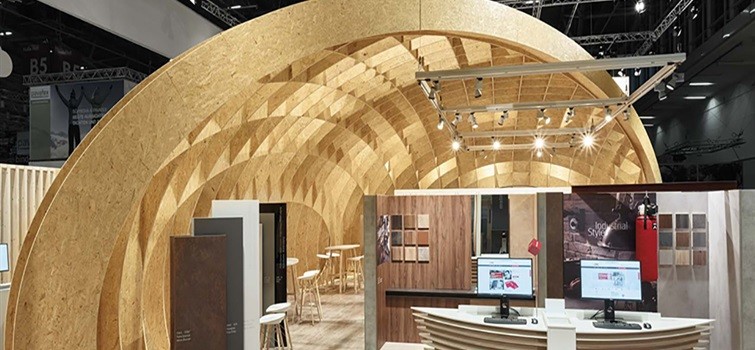 This time we bring you a report from the BAU 2017, which focuses not only on design, but rather on building materials. The ideas that the exhibitors brought are in some cases bold, but with a great chance of success.
17 halls of progressive ideas
The Bau Trade Fair in Munich is one of the most important trade fairs focused on building and architecture. This is demonstrated by the huge space devoted to exhibitors. This year, they expanded their exhibition stands in 17 halls. Records were broken not only in the number of exhibitors, which were up to 2,160 from 42 countries, but also in the number of visitors. More than 250,000 appeared in this fair. The EGGER stand was the main attraction in the furniture part of the fair. The fair oriented particularly on construction also had a place for a wide range of building materials, mainly OSB boards. "At BAU, EGGER introduced new 12mm rebated boards for interior construction. Thanks to the rebate and a slightly smaller format, they are easier to work with. This means that one person is enough to work with them," explains Démos Sales Director, Marek Kolář.
EGGER introduced their latest work
A new look at dry construction was brought by EGGER also with OSB boards, which allow for creating interesting architectural works. "This is a cell-building system designed for example, to build container homes quickly. The difference is that it is practically a complete wood-based building," explains Marek Kolář. The main advantage of this system is ecology, speed, but also flexibility in creating the look of a building, which can be daring architecturally. EGGER introduced a completely new collection of decorative materials at the fair. This collection will be very important for all interior designers for at least three years. "I personally liked the presentation of laminates for the production of doors. I was surprised by the walnut decoration. Interesting was the use of a transverse marquetry," says the Director of Board Materials, who was also impressed by the transverse edges. Egger has been offering these edges for several years, but we still cannot talk about their significant use in furniture making. "I think it is a great shame because the transverse edges move the possibilities of the laminated boards again a little closer to the solid wood," he adds.
Pfleiderer is not lagging behind with regards to decorative materials either
Pfleiderer is another major supplier of wood-based boards. At BAU, it presented a new collection of boards. The collection caught attention, thanks to the link to the DST collection. For customers, it is possible to combine different brackets, decorations and structures, and for architects, there is a large number of possibilities to use them.
Smart homes were a hit
As far as trends are concerned, Mark Kolář's attention was caught by a large number of exhibitors who specialised in non-flammable or acoustic materials. Many companies also dealt with so-called smart homes and housing. State-of-the-art technologies and systems for buildings are the essence: from security measures through heating to shielding, such as roller-blind solutions. All of this, of course, is fully automated. Concerning the acoustic products, Marek Kolář was most impressed by the solution of Akustik+, which also uses EGGER materials. Thanks to this, it can combine acoustic and standard materials within larger building units. "At the fair, it could be seen that the acoustic solution could be not only functional but also imaginative and attractive. For example, fine grooving makes a very nice impression," adds Marek Kolář.
3D facades and plant insulation
Great space was devoted to facade systems. Exhibitors with dozens of materials and structural solutions of the facades were competing with each other at the fair. "3D facades, but also the possibilities of bending composite boards, caught my eye. In this respect, I liked the Trespa stand, which produces HPL compact boards available also in Démos," says the Director of Board Materials. The possibilities of using compact boards on the facades are enormous and exhibitors' displays only confirmed this. At the fair, material was also presented, which is only in development, but with great potential to succeed in the real market. The name is Typha by Isover. It is a board made of TYPHA (broadleaf cattail) and serves as insulation in the building industry. What is exceptional is the ecology of this product, because fast growing plants could be a good alternative to today's most widely used wood-based insulation.
Mosaics made of wood and stone
Some of the stalls were lined with mosaics made of various facing materials. "It was a combination of different structures, thicknesses and colours to create an eye-catching surface. The materials used were mostly wood and natural stone, which gave it a very pleasant look. The facade systems from sheet metal were something completely different," says Marek Kolář. The shape possibilities of these materials are practically unlimited. The same applies to colour versions. Today's monotonous facades could get a fresh glow with this system. Marek Kolář concluded his impressions from the fair that he was pleasantly surprised by how many innovative solutions and materials had been exhibited. "The materials and solutions are promising for new constructions, which will be interesting, playful, functional and intelligent at the same time. Now it's just a question to find progressive architects and enthusiastic investors," he adds.