STRONG base with electrically adjustable height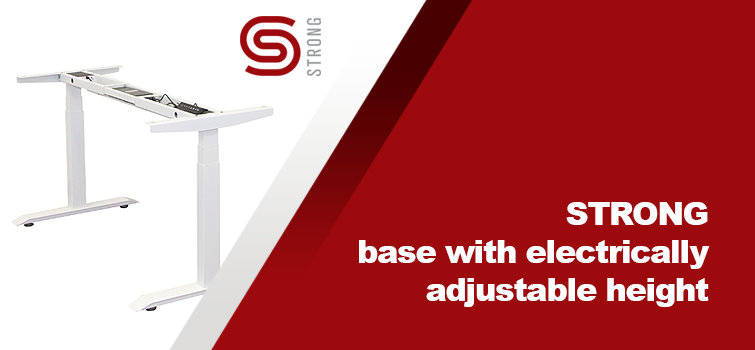 2020-08-26
Say goodbye to a sore back, with the new Strong electric adjustable table legs you can change your work style individually.
Why is an adjustable table leg important? As time goes by, we have become accustomed to sedentary work, which is not ideal for the human body in many ways. Researchers at the University of Pittsburgh compared the health effects of sitting and standing work. Research has shown that using sitting-standing tables has health benefits such as lowering back pain and lowering blood pressure.
With the Strong height-adjustable table legs, you can easily change the sitting and standing position. We recommend our high-quality, ergonomic workstation for both individual and office installations. Don't just sit all day, stand up for your health!
It is easy to use, as with the electric mechanism, by pressing the up and down buttons, you can easily set the height that is comfortable for you to the exact centimeter that the digital height indicator shows. Comfort is maximized with the option to adjust the brightness of the display (3 levels available).
Furthermore, thanks to the 4 memories, you can save your favorite settings so you can easily switch between them at any time, all you have to do is press the number of the saved option. Changing position while working increases productivity and reduces low back pain.
Available in two colors, black or white. With a high load capacity, the table leg can hold 120 - 150 kg, depending on the version. We recommend furniture panels with a thickness of 15-25 mm, a length of 1200 - 1800 mm and a depth of 600 - 800 mm for the hardware.
The adjustable height is 625 - 1265/1270 mm.
Invest in your health and productivity with the standard or L-shaped corner solution, the Strong electrically adjustable table leg is sure a win
Contact our customer service or sales representatives for more information.