StrongBins – StrongBox for garbage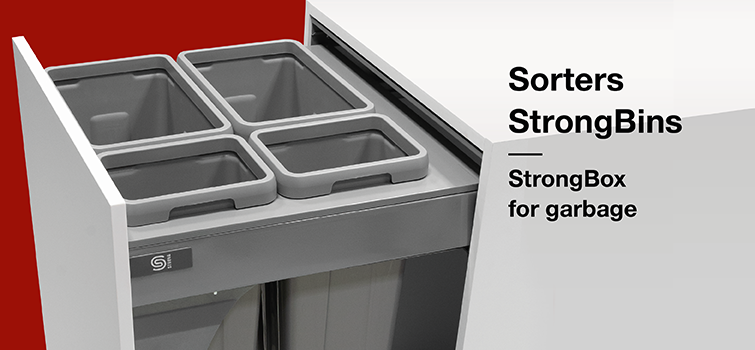 2022-01-11
We have been selling StrongBox pull-out systems for almost 10 years. Their quality is verified by our internal tests, but mainly by the fact that they are constantly and extensively used. Add a series of StrongBins waste sorters, for which StrongBox is the cornerstone, was a very easy decision. Let's introduce them.
The individual parts of the sorters are based on the StrongBox drawer opening system, which has been proven for years. Many of you know that intimately and use (we thank you for that). Thanks to this knowledge, their assembly will be a breeze. Also because the package includes assembly instructions with a drilling template. These are good reasons to take an interest in StrongBins sorters.
What else can we say about them:
They are ready for two cabinet dimensions of 400 and 600 mm.
Equipped with containers with a volume of 9, 13, 21 or 27 liters. Specifically :

2x 13 l in 400 mm cabinet,
2x 9 + 2x 21 l,
2x 9 + 2x 27 l in 600 mm cabinet.
Mounting material is included in the package.
The sorter is self-opening (the lid remains inside the cabinet).
We supply them in gray color.
You will find all the information and important dimensions in the leaflet Sorters Strongbins.
We believe that just as it is a matter of course for you to use StrongBox, StrongBins waste sorters will also become a matter of course.
We look forward to your orders.