StrongLumio – New Range of Led Lighting Available Now!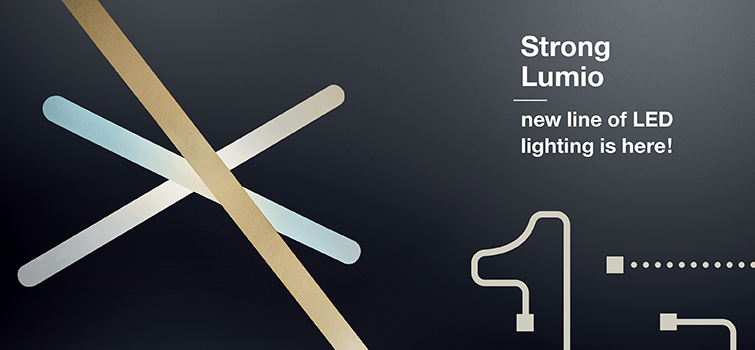 2022-10-03
Thoughtful incorporation of lighting can elevate an interior to a new level. What more! The ability to control LED lighting remotely, to regulate it according to the current needs and finally – to be able to use a mobile application for this, fundamentally increases the comfort of people who inhabit this space. If all this is combined with easy lighting installation (no soldering required), we have a solution that will interest you and at the same time fulfil the idea of "next generation living" that interests the customer.
StrongLumio, as already mentioned, is a new range of lighting that can be divided into 3 levels:
The Series 1 includes basic 12V monochrome LED strips. Its advantages include not only ease of operation but especially interconnection. These LED strips do not require any soldering. Simple connectors are enough to make them work. For more detailed information, as well as practical advice, such as whether to choose warm or cool white light, see the downloadable brochure at the end of this article.
The Series 3 is a bit more sophisticated than the previous one. You can also control the LED strips remotely and connect multiple strips together. They are equipped with a transformer and a hub in one. The Series 3 gives you a better understanding of what next generation lighting really means. Darkening, changing colour or changing light temperature? Anything is possible. You can read more in the downloadable brochure below.
The Series 5 is at the top of the StrongLumio range. It will be the right choice if you are looking for an "all in one". The Series 5 offers a comprehensive solution – everything from the remote control to the transformer, hub and the TUYA mobile app. Easy joining without soldering is a matter of course here. More details can be found in the brochure.
StrongLumio – New Generation of LED lights