StrongMax 18 – the slide that has come of age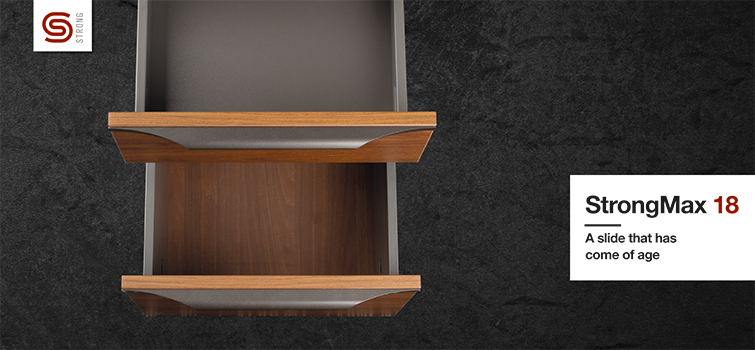 2023-01-10
If any product comes of age, it's usually into some groundbreaking technical solution. With StrongMax, this solution may not be groundbreaking, but it is certainly very interesting and technical! The number 18 in the product name is not for nothing. Read more about it!
We have been successfully selling the StrongMax range range of dampening hidden slides with hollow thin side panels for several years. Let us recall their qualities:
For a drawer with a front, all under one ordering code and all in one package.
All settings are hidden inside the drawer, the cover does not interfere with the clean design of the sides.
Thin sides increase the usability of the interior drawer space by up to 2.5 cm.
Repeatedly exceeds 80,000 opening and closing cycles (according to the TŰV standard) in full load tests.
Combine with StrongMax cutlery trays for a perfect design and overview of the inside of the drawers.
The version with glass sides gives you a perfect overview of the stored contents.
Its advantages, as you have read, are many. We did, however, manage to add one more! For the bottoms of drawers with StrongMax 18, we have made it possible to use 18 mm thick bottoms and backs! There is no need to modify the material to make them, other than to cut them to size and insert them into the groove in the side and the holder in the back. What advantages this adds:
Endless options for choosing the decor of the bottom and back.
Increases the usability of the boards for furniture production.
You will make the design of the drawer more similar to the rest of the furniture (colour of the cabinet, front).
You will give the drawer an uncommon, novel character!
In short, not only does this solution allow you to make maximum use of the boards for the production of cabinet bodies (for example), but it also gives you the opportunity to play with the furniture much more and to surprise its users! Now you know why to choose StrongMax 18!