Tulip broadly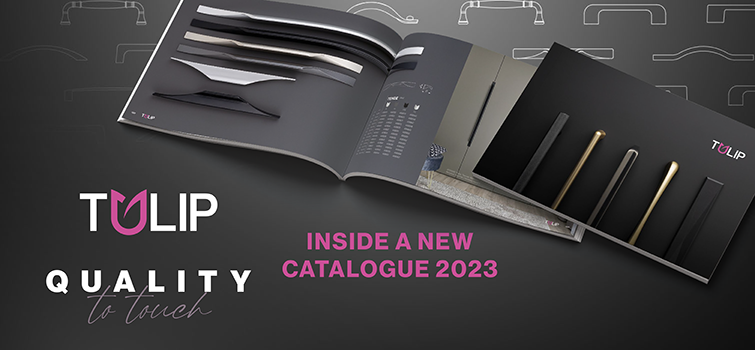 2023-08-01
There are some things we need to take a good look at before we make a decision. Find out as much information about them as possible. Handles and hangers are one of those things. That's how we thought when we chose the right format for the new Tulip catalogue. We looked at it broadly.
We want you to be carried away by a wave of inspiration while browsing the catalogue. To see the handles and hangers as they look, as well as how they look mounted on the furniture, on the wall. So that the handles or hangers you choose have all the important information. The size, the colours, and the material they are made of. And most importantly, so that you can have a good look at them.
That is why we have chosen the A4 landscape format. Both handles and hangers have much more space than in the same portrait format, so you can see maximum details. The catalogue is divided into several sections, it will be easier for you to search through it. New items have been given a large, two-page space, as well as each interesting handle in the group (metal, wooden, rustic, etc.).
All the handles from our range are in the catalogue this time and we believe that you will find this catalogue a pleasure to choose from. You can see many of the handles and hangers at our stores in the Czech Republic, Slovakia and Poland or at our partners.
Check out the new online Tulip catalog, the printed version will be available soon.
We have most of the novelties in handles, knobs and hangers in stock, or will stock them for you by the end of August.