We have expanded the range of the top quality Spax screws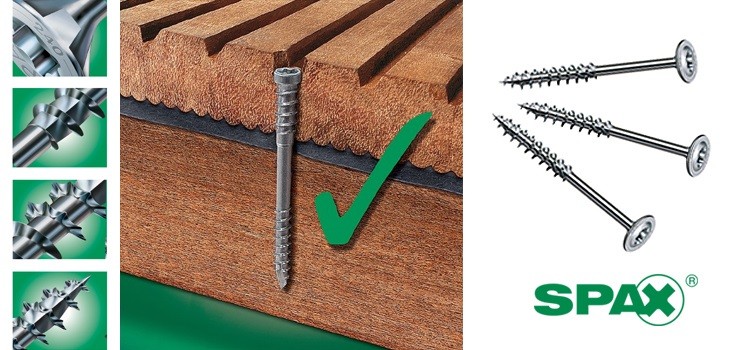 2019-07-30
We have extended the offer by bigger sizes of screws, also in nickel-coated finish. Special screws for pergolas and terraces, screws for anchoring the back or for joining two boards are newly available.
If you have already tried working with Spax screws, you know that they are drilled in easily and effortlessly from the very tip. The joint is stronger than when using conventional screws and there is no risk of material rupture at the edge and when using thin materials.
Now you can purchase:
bigger sizes of screws,
screws for pergolas with wafer and countersunk head, up to 280 mm long,
screws for terraces, both from softwood and exotic wood,
other screw sizes for hinges with nickel-coated finish,
screws for anchoring the back,
special screws for thin strips and anchoring of floorboards,
floor screws with a double thread,
special screws for joining two boards (4 × 33 mm).
An undeniable advantage is the significantly more resistant Wirox finish and up to 20 times higher durability than ordinary white galvanised screws.
With Spax screws that are made in Germany you have a full guarantee of professional workmanship, top quality and ETA certification for all products. You can find more inspiration for work with screws Spax in catalogue SPAX Outdoor.
Feel free to try them, you will not regret it.